WordPress maintenance mode plugin is the best choice if you want to make changes on your website and at the same time you don't want to lose your users, while you are working on your website.Our maintenance mode plugin will help you to create a beautiful maintenance page with a lot of functionality.
For example, your users can watch video or share your website on social websites, or even subscribe to your maintenance page and it's not all .We think our maintenance mode plugin have the all functionality that need any maintenance page.
Download and use our Maintenance mode plugin Free version and you will like it.
Also, check our WordPress Maintenance Mode plugin demo pages.
Features of WordPress Maintenance Mode plugin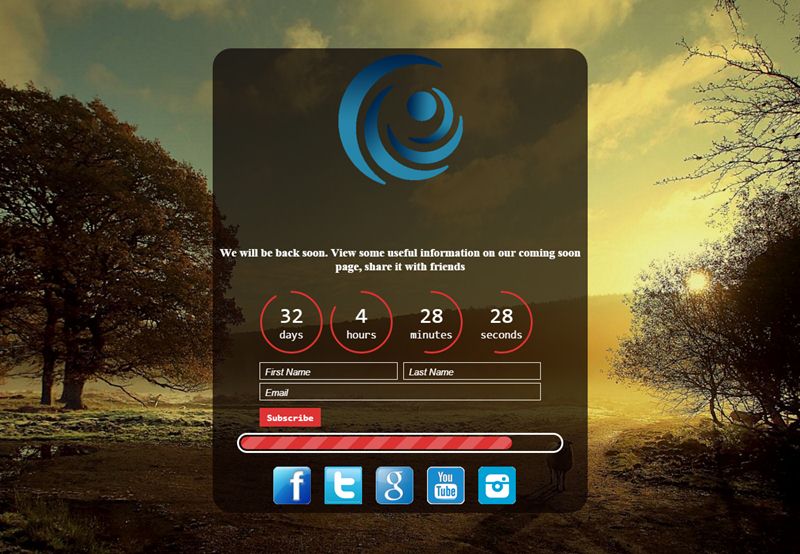 Easy installation and configuration
Perfectly works on all versions of WordPress
Fully Responsive Maintenance page
Maintenance Mode with Nice Background Slider
Maintenance Mode with Video(YouTube) Background(Background video doesn't for mobile devices, this comes from YouTube Api)
Maintenance Mode with 39 cool animation effects
You can set Animation waiting time for any element you need
You can set any position for every element on Maintenance page
Possibility to use elements ordering with drag and drop functionality
You can set content maximum width

Possibility to select any font from 31 built in fonts
Possibility to customize Maintenance page Progress bar
3 different and nice Countdown designs
Link to admin section for your users
Highly customizable Maintenance page
SEO friendly Maintenance page
Ability to control Maintenance page access by IP
Custom Logo for Maintenance page
Social Media Ready Maintenance page
High customizable Countdowns for your Maintenance page
Ability to exclude specific urls
Ability to set Maintenance page content position
Email notifications
Tested on popular WordPress themes
Uses of CSS3
User friendly and handy back-end for Maintenance mode plugin
PERSONAL
$ 14
Single Pro license
Fully Responsive
Fully Customizable
Premium features
39 Animation effects
Premium support
Most Popular
BUSINESS
$ 30
5 Pro license
Fully Responsive
Fully Customizable
Premium features
39 Animation effects
Premium support
DEVELOPER
$ 50
Unlimited Pro license
Fully Responsive
Fully Customizable
Premium features
39 Animation effects
Premium support
We accept Credit Cards, PayPal, and Debit Cards payments!
User Manual for Maintenance Mode
Installation of WordPress Maintenance Mode plugin
Log in to admin panel.
Go to Plugins page Add New > Upload Plugin .
Click "Choose file" then select Maintenance Mode plugin zip file.
Then just activate the plugin.
If any problem occurs, contact us at support@wpteam.org.
Installation of WordPress Maintenance Mode plugin Pro Version
After you purchase the Maintenance Mode plugin you will be redirected to wpteam.org again and the Pro file download will start automatically.
If you already use the free version of our Maintenance Mode, then you just need to uninstall the free version and then install the Pro version.
If you didn't get the Maintenance Mode plugin Pro version, contact us and we will send the Pro version.
Frequently Asked Questions
After installation I can't see my Maintenance page, why ?

By default Coming Soon plugin disabled, so you need to enable it.
Log out from your admin panel(or check Maintenance page using other browser).
Clear your cache.
Clear your website cache(If you use cache plugin, then just clear it)
Check the Maintenance Mode Countdown(it doesn't matter that you don't use this feature, because it may be just hidden). If Countdown date expired and you have selected this option "After Countdown expired – Disable coming soon", then the coming soon page will disappear.

I disabled my Maintenance Mode Plugin but I still see the Maintenance page, why ?
First of all delete you browser and website cache(try to open your website in other browser, or if you have any caching plugin then just clear the cache).
If any problem occurs use our Contact Us page, tell us about issue and we will fix the problem – Contact Us Page.